---
---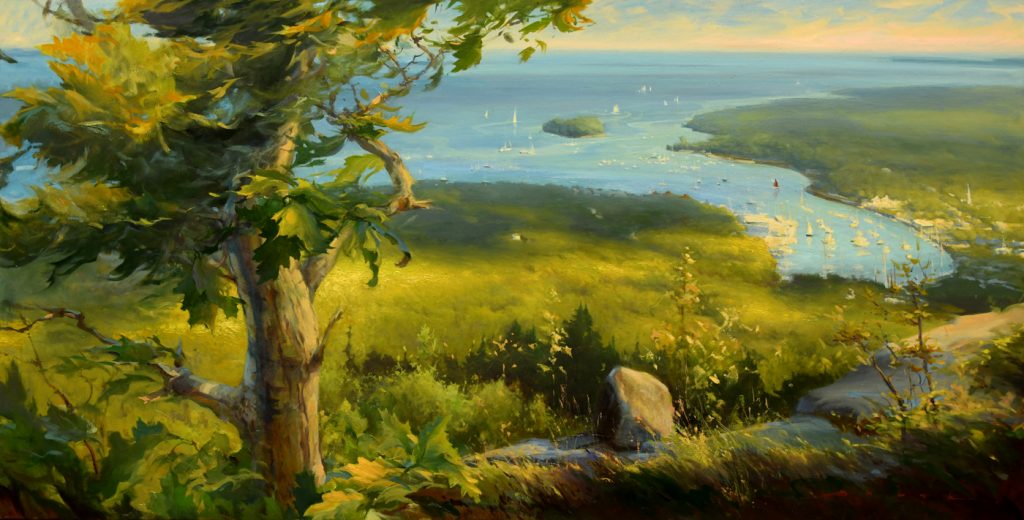 Olena Babak
Hartland, ME
olenababak.com
Olena Babak is an award-winning, classically trained artist, whose landscapes and figurative works can be found in galleries and public and private collections in the U.S. and abroad. Some of her selected awards include Best of Show in Tilghman and St. Michaels, Easton Plein Air, Best Marine Cape Ann Plein Air, Artists' Choice Plein Air Richmond, Best Representation of Rocky Mountain National Park, First Place Hudson River Plein Air, and many others. Her work has been featured in Plein Air Magazine, Art Renewal Center publications, the Poets and Artists 100 Great Drawings, and the "Classicist" as well as the "Strokes of Genius" series.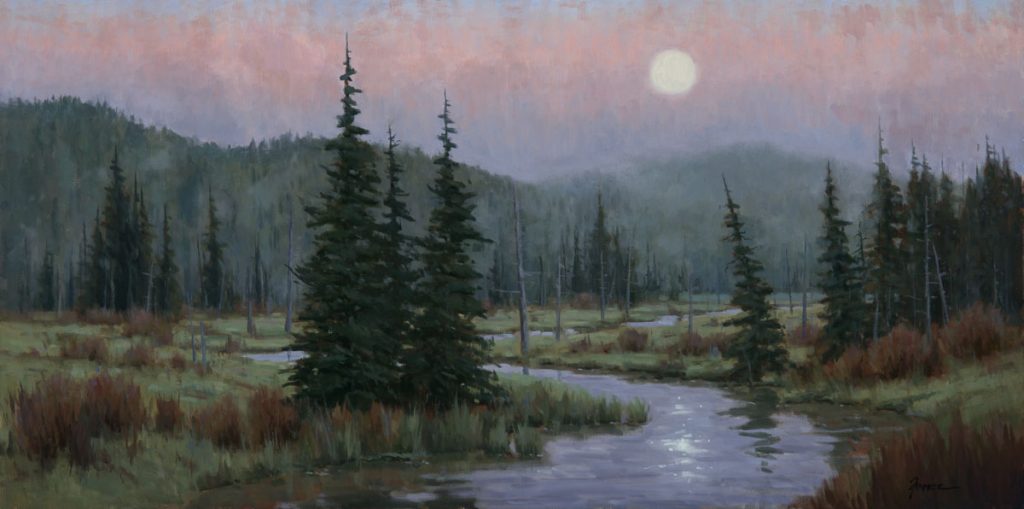 Charles Fenner Ball
Bangor, ME
charlesfennerball.com
Inspired as a child by the classic children's book Harold and the Purple Crayon, Charles Fenner Ball says, "I always have been captivated by how a work of art is something that has never previously existed, commanded into being by the artist. There's often an inherent sense of mystery in paintings, and I try to capture that spirit in my own work. Ideally, I offer the viewer a sense of escapism and enchantment, some sort of ideal place in nature in which to be momentarily immersed – a place of mystery, beauty, and intrigue."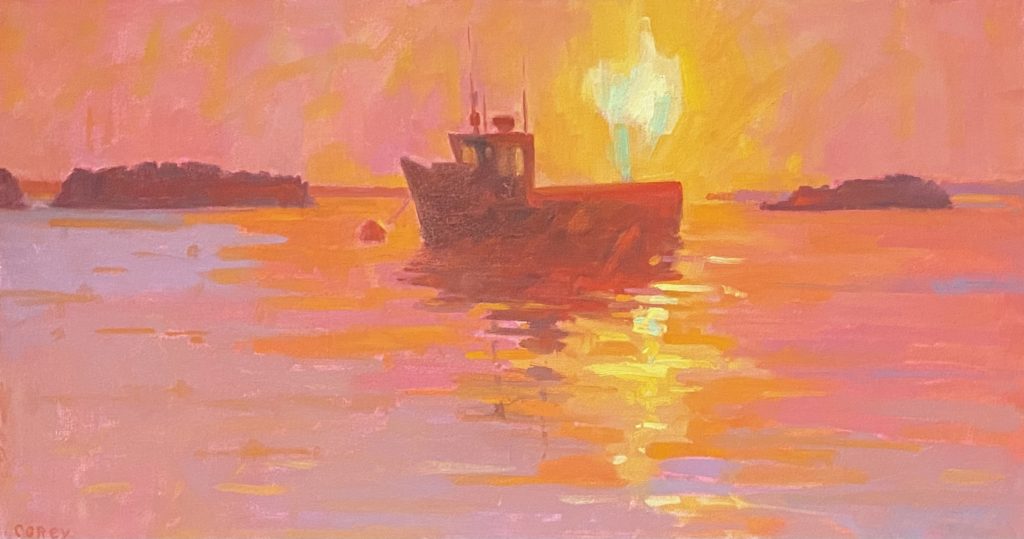 Daniel Corey
Standish, ME
danielcorey.com
Daniel Corey is a traditional painter rooted in the aesthetic values of the Ashcan School and the French Impressionists. Inspired by light quality, color harmony, and abstract shapes, he creates his paintings from direct observation and memory. He enjoys the challenge of painting nontraditional views and subjects, and views that are uniquely Maine.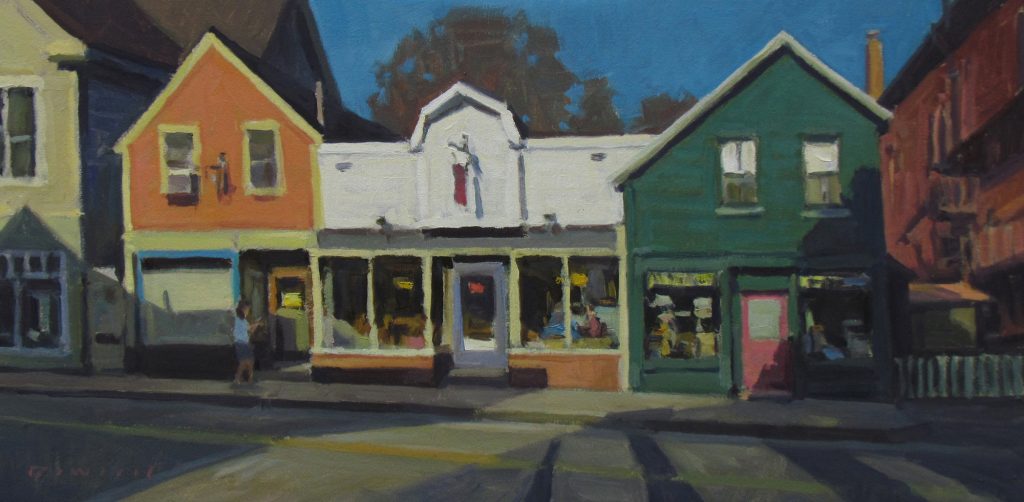 Ken DeWaard
Hope, ME
kendewaard.com
Kenneth DeWaard has been painting en plein air for 30 years. He has won awards at plein air events such as Easton, Door County, Cape Ann, Laguna Beach, Callaway Gardens, Sonoma, Richmond, and Florida. Getting the essence and beauty of the scene, and finding the inner elegance – be it with line, mass, shape, or color harmony – is DeWaard's intention. He says, "My goal is to inspire those who see my work to look more carefully at the world around them; to discover the beauty in everyday places."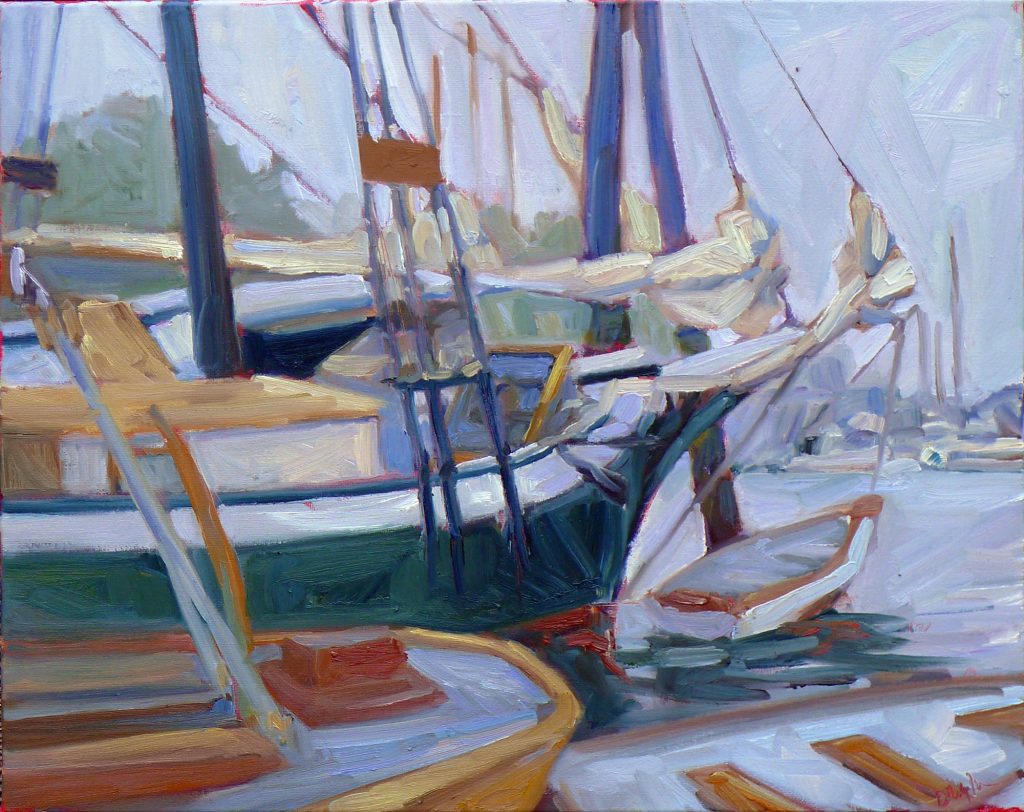 Carol L. Douglas
Rockport, ME
watch-me-paint.com
Carol L. Douglas paints and teaches in Rockport, Maine. She has taught plein air painting in Maine, New Mexico, Florida, and New York, including two watercolor workshops aboard the Rockland Schooner American Eagle. Douglas, who studied at the Art Students League of New York, is passionate about wilderness painting. In 2016, she traveled 10,000 miles across Alaska and Canada to paint in the northern backwoods. In 2020, she painted the glaciers of Patagonia. She has painted in Scotland, Australia, and elsewhere.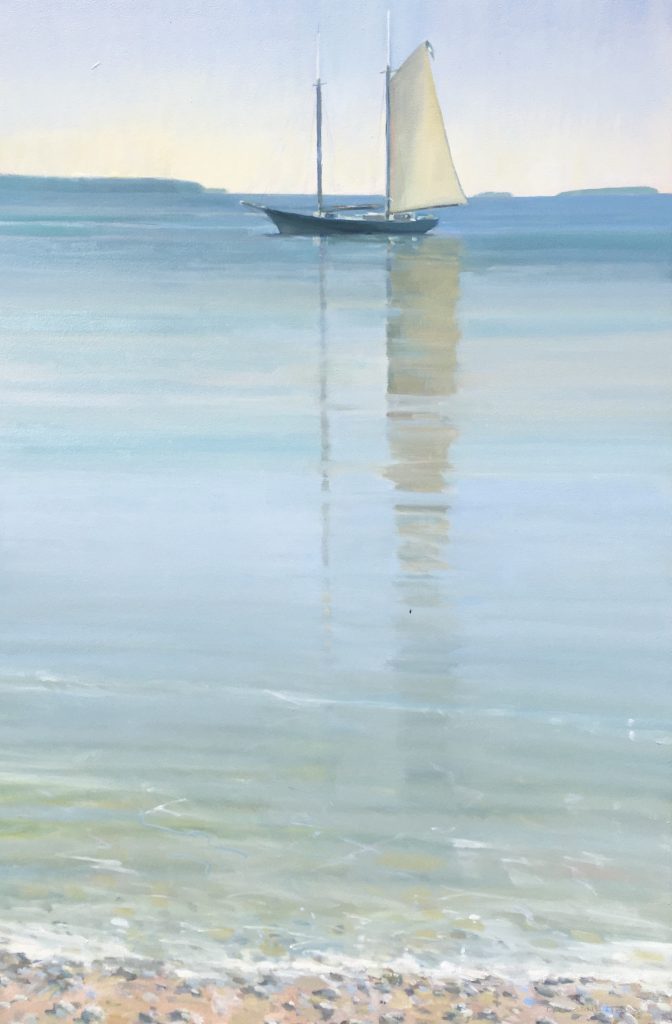 Cooper Dragonette
Cape Elizabeth, ME
cooperdragonette.com
Cooper Dragonette came to Maine originally to work at the Hurricane Island Outward Bound School. Exploring the coast of Maine with his students in a small sailboat or sea kayak led him into the next chapter of his life, as an artist. The coast of Maine is his inspiration for the paintings he does today. Much of his work is a combination of what he sees directly before him, and what he remembers from his time with Outward Bound. Dragonette says he is now "a full-time artist, teacher, father, and husband – not necessarily in that order."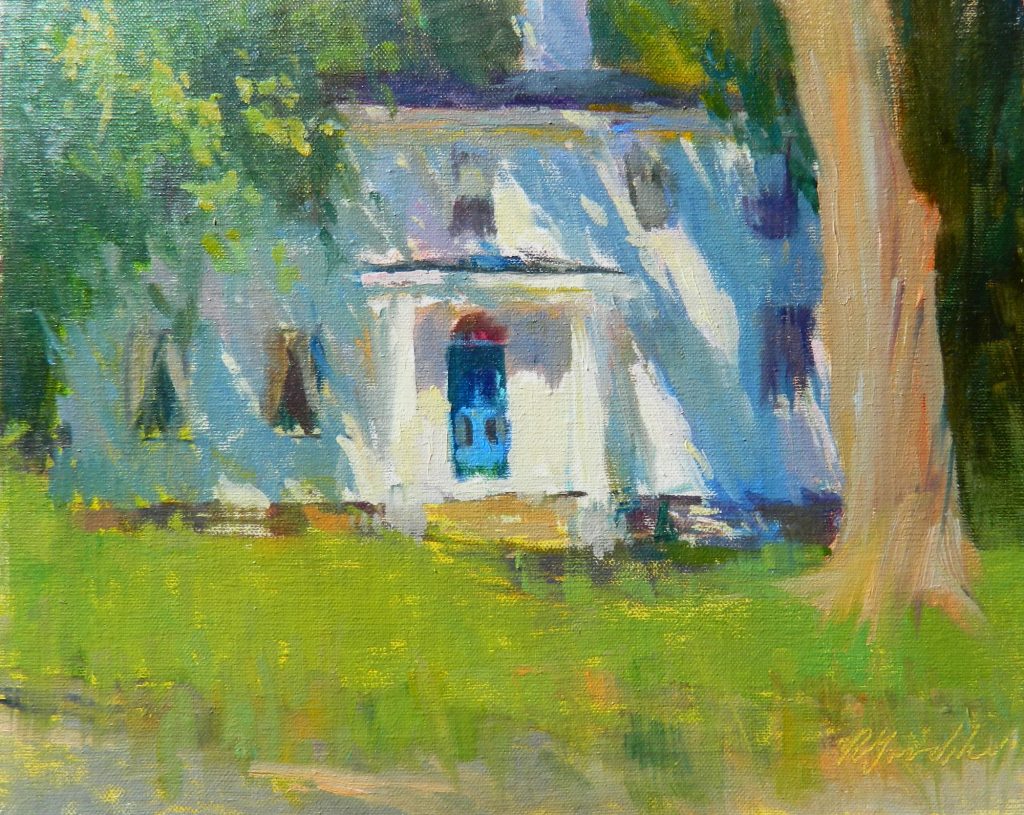 Roberta Goschke
Waldoboro, ME
robertagoschke.com
Roberta Goschke's childhood interest in drawing continued through her 20-year U.S. Army career. She brings her passion for figure drawing to landscape painting "all in one go," and sees endless challenge in making decisions and using time wisely before the moment vanishes. Her artwork has appeared in exhibitions in Maine; Washington, DC; Virginia; and Maryland. Roberta has won many awards, including First Place, Bangor Art Association; the Castine Plein Air Festival; the Guerilla Painter Award; and the Wayne Plein Air Festival. In Maine, she is represented by Ingram Art & Antiques and Wiscasset Bay Gallery, Wiscasset, and Roberta Goschke Studio, Waldoboro.
Alison Hill
Monhegan Island, ME
alisonhill.net
"Painting is my way of moving through this world, responding to and expressing what I see and feel," Hill says. "It is my interpretation, using color, stroke, and line, to evoke the mood I receive. Whether I am painting a landscape, a person, or a still life, I want to recreate what I am receiving." Alison Hill lives on Monhegan Island, Maine. In the summer, she runs a studio and gallery. Off-season, she paints, travels, does portraits, and works on other art-related endeavors. "Monhegan offers endless inspiration," she says. "I am very fortunate to call this island home."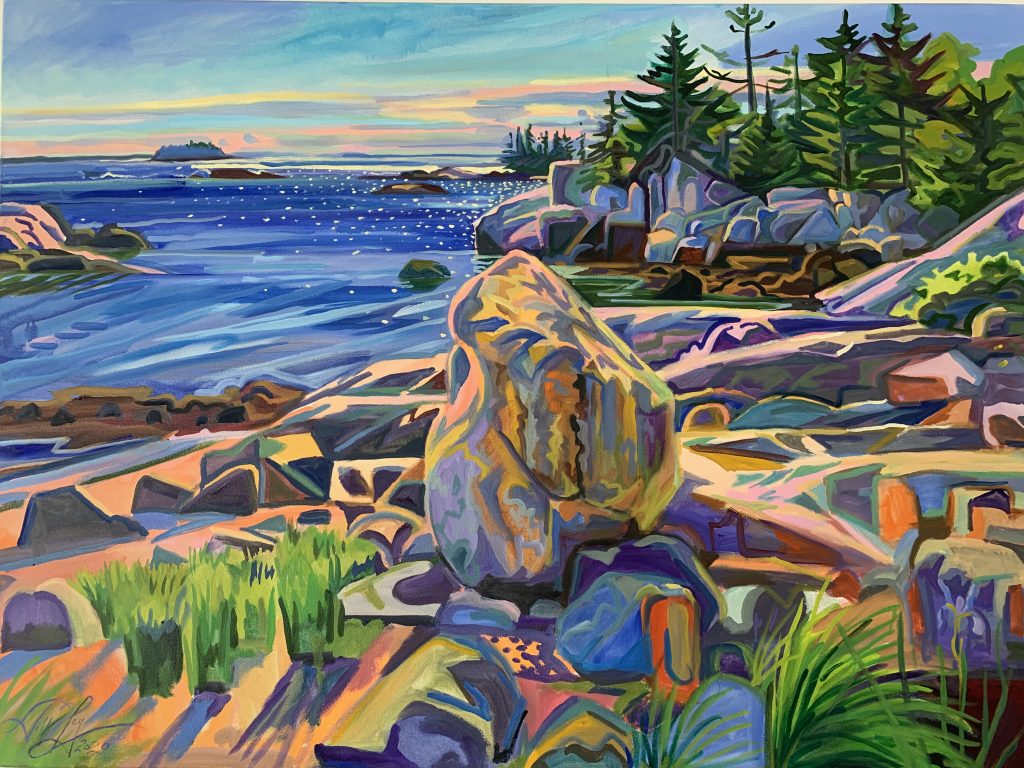 Jill Hoy
Stonington, ME
jillhoy.com
Jill Hoy runs The Jill Hoy Gallery in Stonington. She shows nationally from Los Angeles to Boston, as well as in London. In Maine, in addition to her own gallery, she shows at the Portland Art Gallery. Hoy says, "I am a plein air oil painter. Maine has educated my eye to its rhythms and light. I document place and character, held by strong composition and structure, while discerning the subtext color, carried by light. I annotate rhythm and structure into gesture of brush stroke, and allow air and wind to keep breathing through these paintings."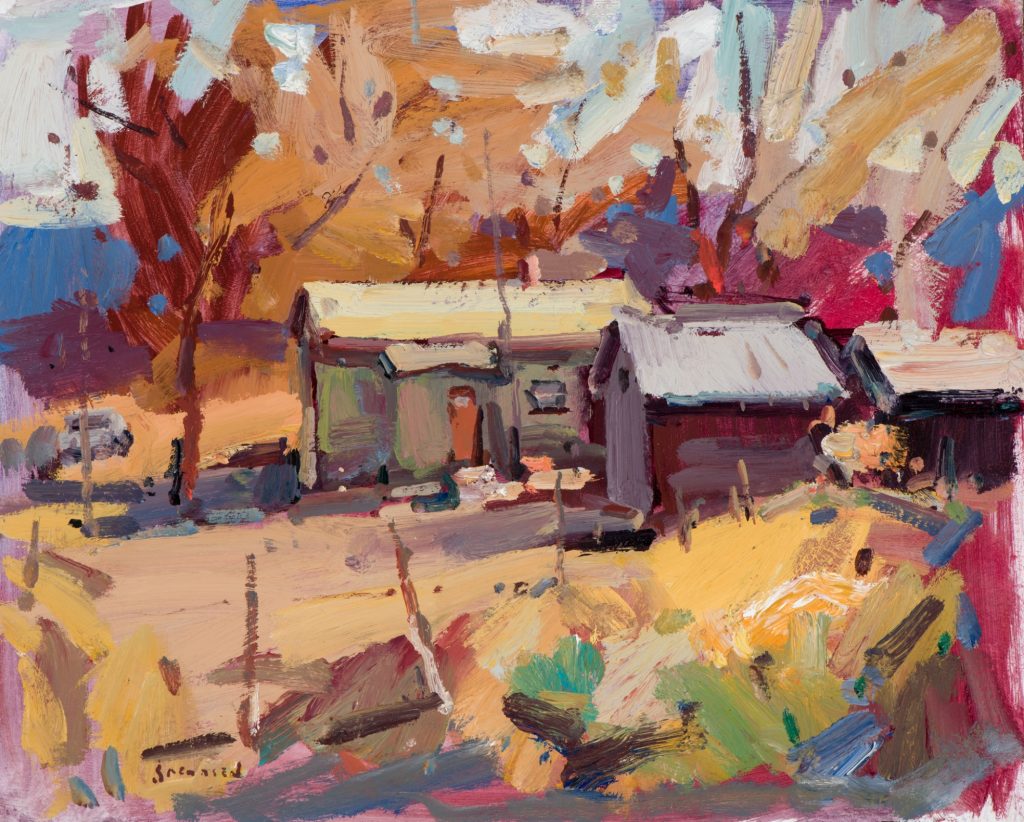 Eric Jacobsen
Thomaston, ME
jacobsenfineart.com
Born and raised in New England, Eric Jacobsen studied at Gordon College in Massachusetts and the Lyme Academy of Fine Arts in Connecticut. Jacobsen is a plein air painter, trained in the Beaux Art tradition. "I want my paintings to be felt by the viewer without his or her having to analyze or think about them," Jacobsen says. "I try to find strong compositions in nature and then paint the scene accurately, while leaving out extraneous details that would detract from the strength of the piece as a whole."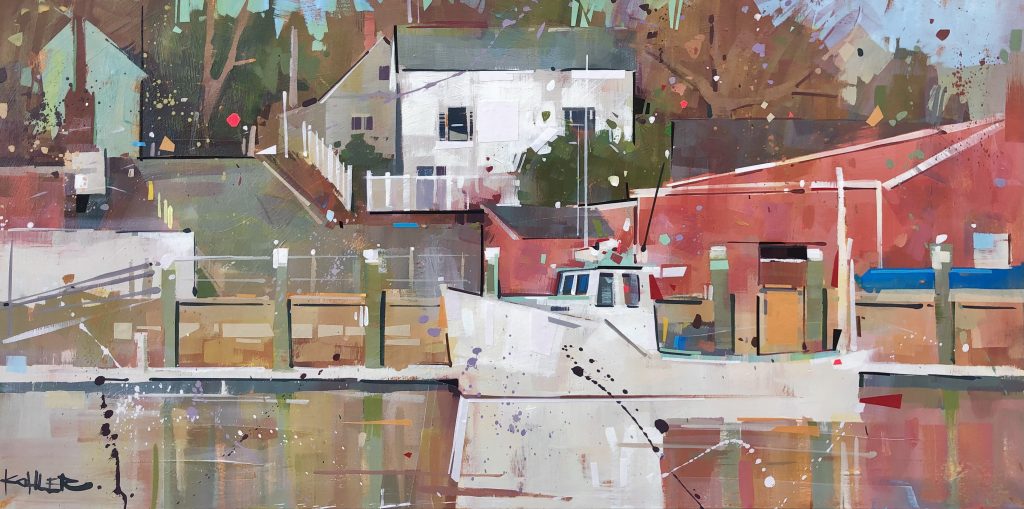 Ryan Kohler
Skowhegan, ME
ryankohlerpaintings.com
Ryan Kohler describes his painting as representational, with some modern twists. He works from photographs and paints from life in the field, often choosing subjects from nature. "I try to inject a sense of fun and dynamism into my work, as well as a sense of wonder at the beauty of the natural world," he says. "Sometimes I let the edges of my subjects blur, conveying a sense of ambiguity . . . combined with unpredictability. Recently I have been experimenting with the world of collage, adding colored tape and bits of paper to my compositions."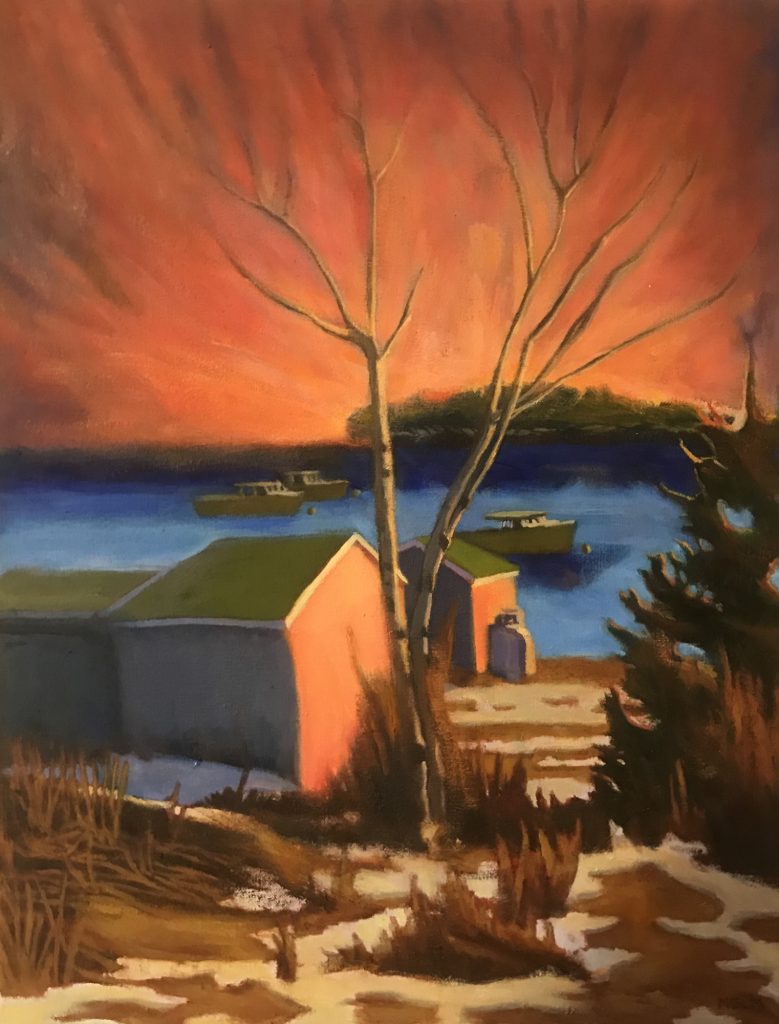 Matthew Meyer
South Portland, ME
matthewmeyerworks.com
Matthew Meyer lives and paints in South Portland, Maine. A graduate of Bowdoin College and Lesley University College of Art and Design, Meyer has exhibited nationally and internationally. A practiced plein air landscape painter who prizes the immediacy of on-site painting, Meyer has more recently turned his attention to the genre of still life, painting subjects to explicitly archive human experience. Honeybears, pickle jars, and to-go boxes number among his latest objects of concentration–literal and figurative containers into which he pours his time and attention.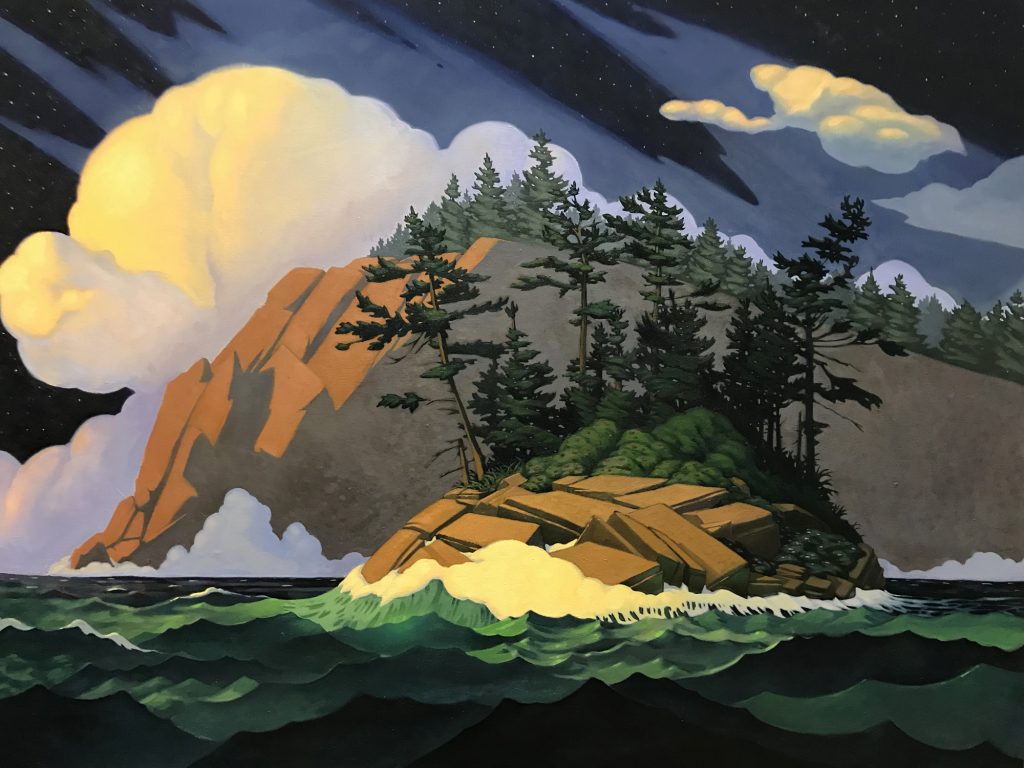 Nathaniel Meyer
South Portland, ME
nathaniel-meyer.com
Nathaniel Meyer has been painting landscapes in Maine since the mid-nineties. Recipient of the 2015 Monhegan Artists' Residency, he has exhibited his work nationally and internationally. Meyer will be the featured artist this September at Page Gallery in Camden. In 2018, his work was exhibited and added to the permanent collection of the Munakata Shiko Memorial Museum of Art in Aomori, Japan. Meyer received degrees from Boston University School of Fine Arts and Lesley University College of Art and Design. He teaches Drawing, Design, and Color Theory at the University of North Georgia.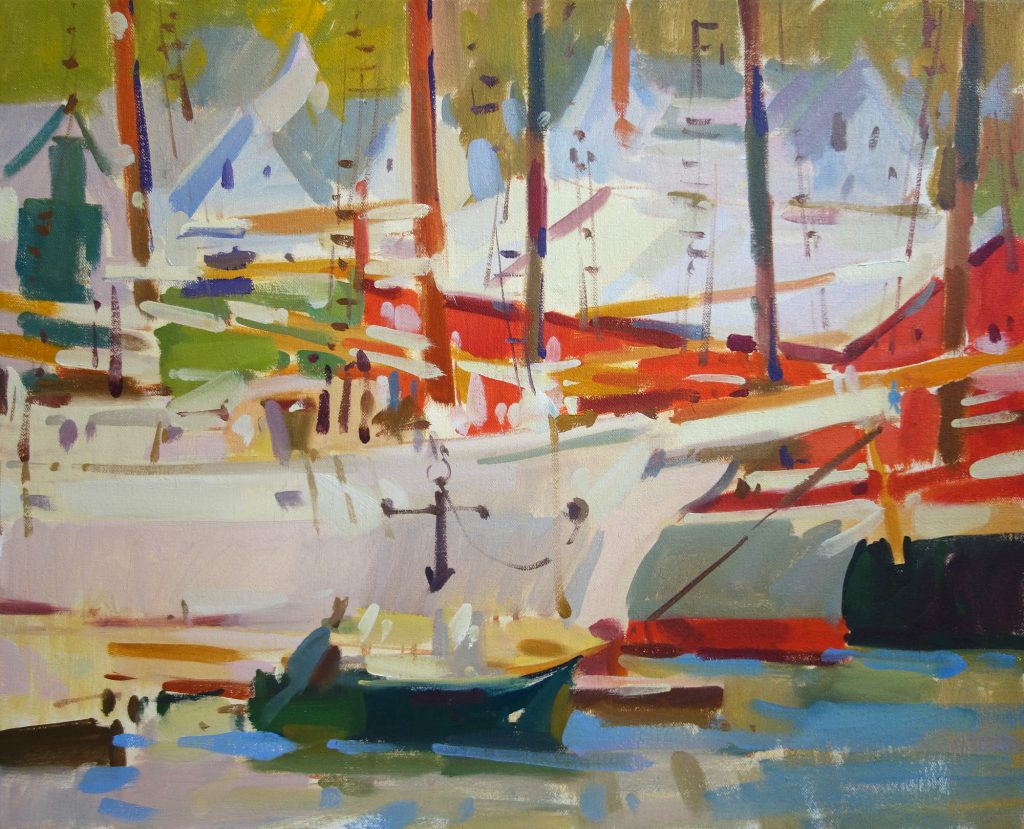 Colin Page
Camden, ME
thepagegallery.com
Colin Page, raised in Baltimore, studied painting at the Rhode Island School of Design and at the Cooper Union for the Advancement of Science and Art. Whether working on location or in the studio, Page strives to capture the atmosphere and light of a scene. Page currently lives in Maine, where he focuses on painting the landscape, and scenes that show his life as a father of two young girls. His work has been featured in solo exhibitions and group shows nationally and abroad.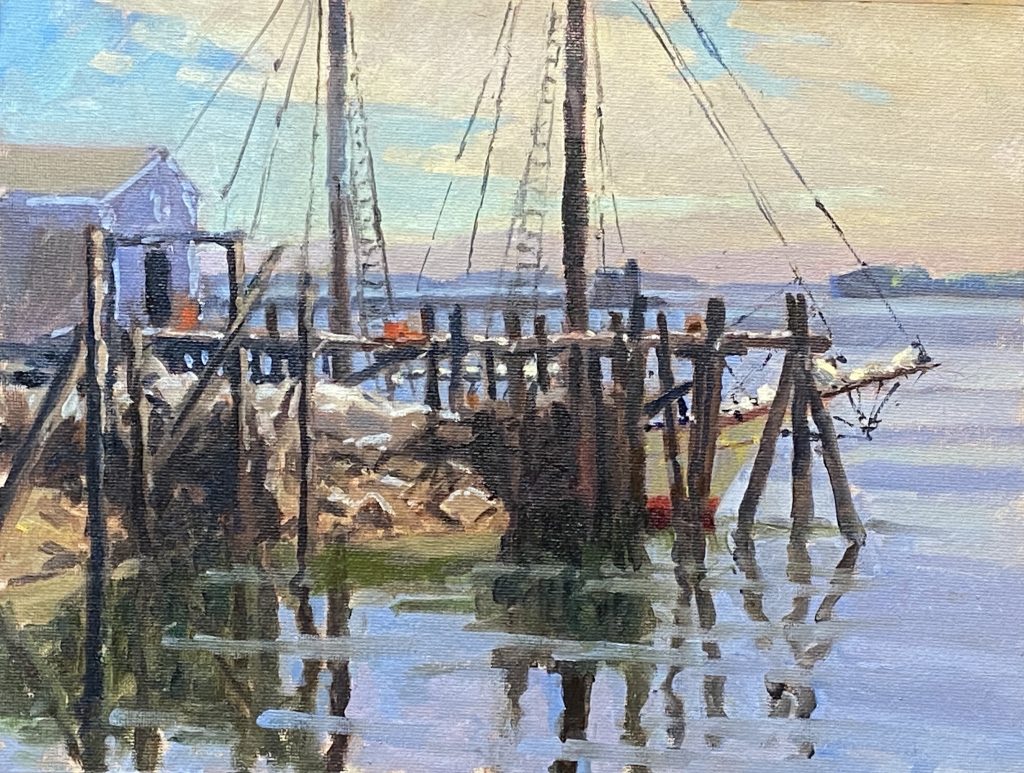 Björn Runquist
Spruce Head, ME
bjornrunquist.com
Björn Runquist is a Swedish-born artist who grew up in New York and France. He is essentially self-taught, but has painted since childhood when he started private lessons with Swedish artist Nils Strom. He has work in the permanent collection of the Farnsworth Museum and has exhibited widely in galleries on the East Coast. He is in many private and corporate collections and has been featured several times in Maine Home & Design magazine. He is now a Maine resident, represented by Landing Gallery in Rockland.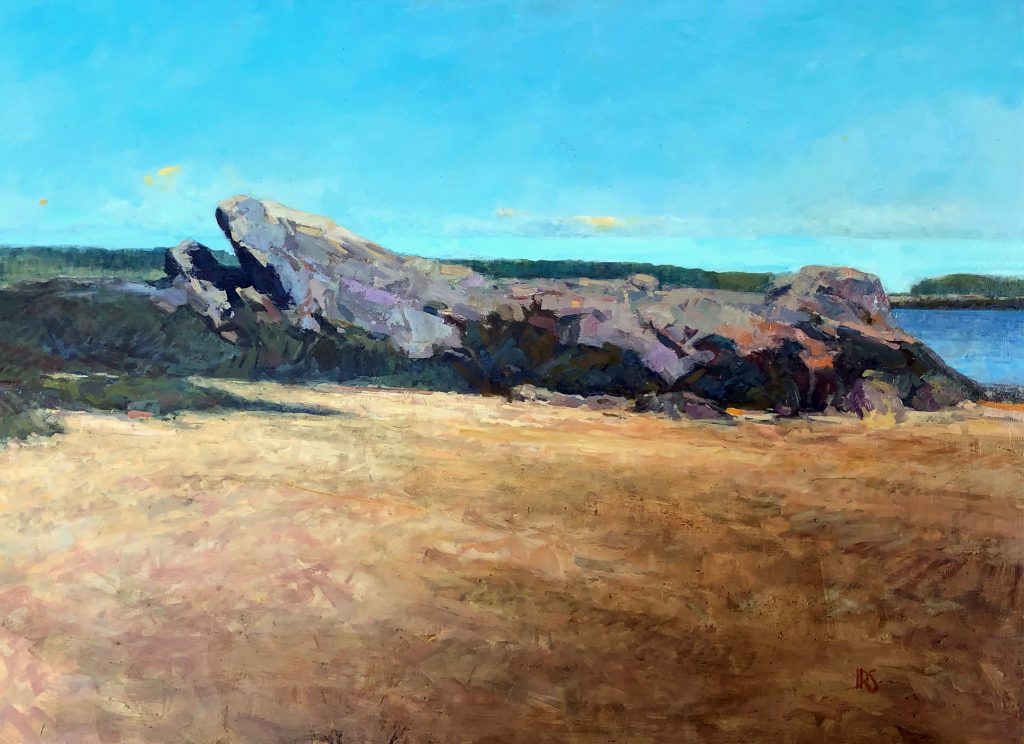 John Santoro
Portland, ME
johnrsantoro.com
John Santoro grew up in New York's Hudson Valley and now lives in Portland, Maine. He holds a MFA in Visual Arts from the Vermont College of Fine Arts. Santoro began his career working with a leading New York prop and display house producing scenery for Broadway shows such as La Cage aux Folles and Cats. After moving to New England, Santoro worked as a graphic designer, illustrator, and fine artist. He is drawn to the marshes, fields, and quiet places along Maine's southern coast. His work is held in private and corporate collections across the country.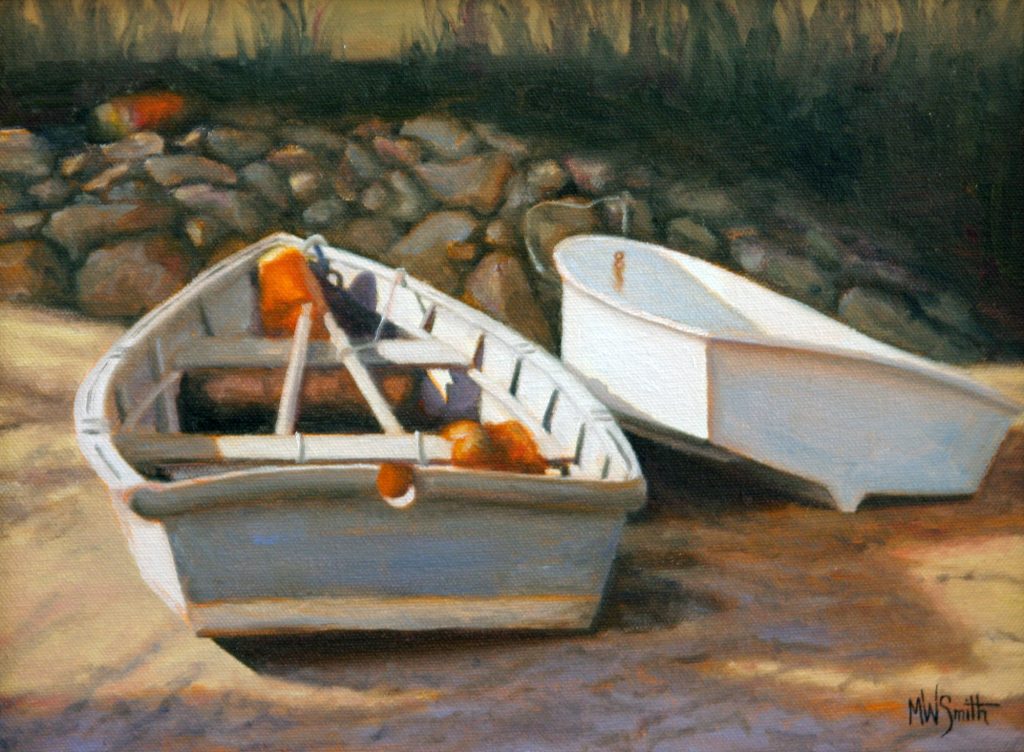 Marianne W. Smith
Camden, ME
mwsmithgallery.com/index.htm
Marianne W. Smith has lived in Camden and Rockport since 1970. She has had a career starting and managing several businesses. The process of painting enables her to be among the places and objects that bring wonder, joy, and serenity to her life. The interplay of light and shadow and the rich use of colors are her strongest focuses in her work. Whether working in her studio or painting plein air, she is continually enriched by the stunning beauty of the coastal area. Her work can be seen at the Lord Camden Inn in Camden.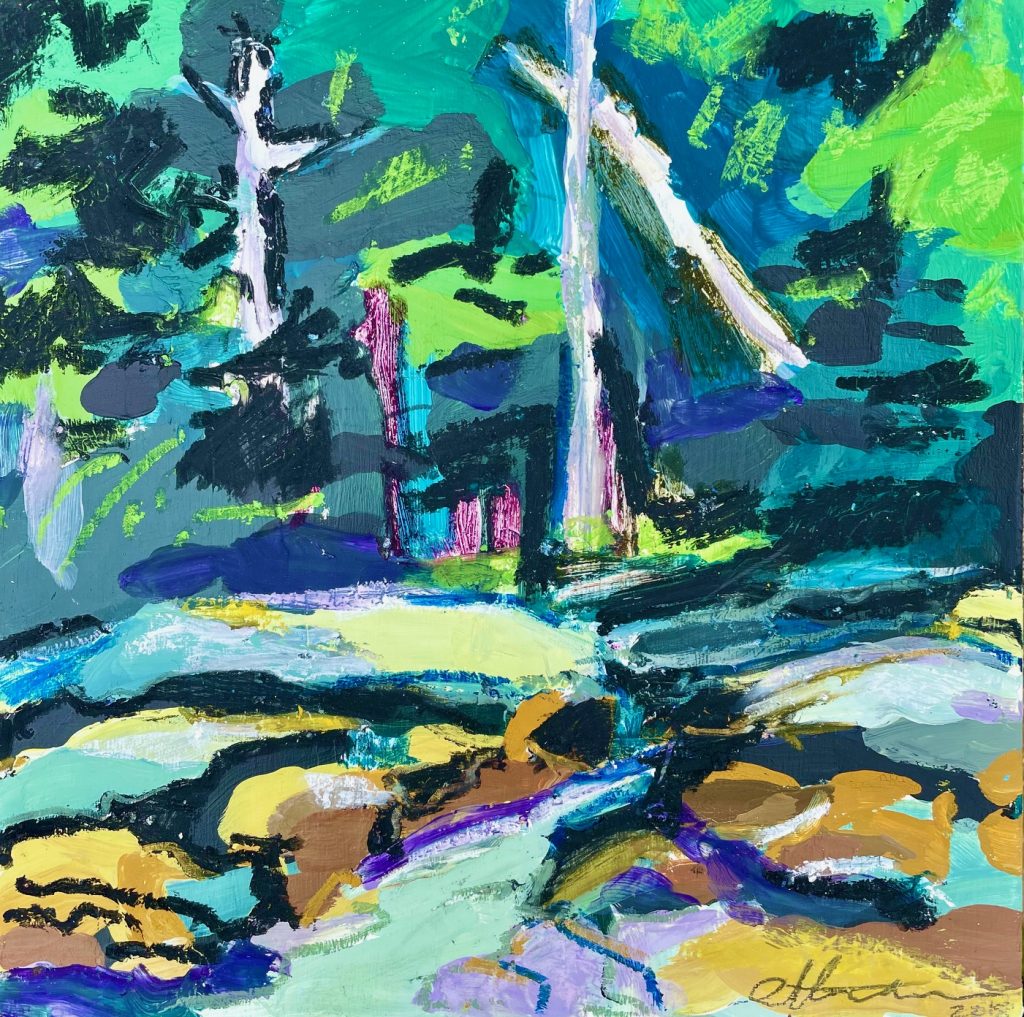 Emily Leonard Trenholm
Brunswick, ME
emilyleonardtrenholm.com
Emily Leonard Trenholm is a landscape painter who keeps a studio practice working outdoors. She is the recipient of several awards and residencies, including SOLO Competition at Bromfield Gallery, Monhegan Artists' Residency, and Great Spruce Head Island Residency. An adjunct professor of drawing at Southern Maine Community College, Trenholm received her BFA from the University of New Hampshire and MFA from Boston University. She lives in Brunswick, Maine with her husband and two young boys.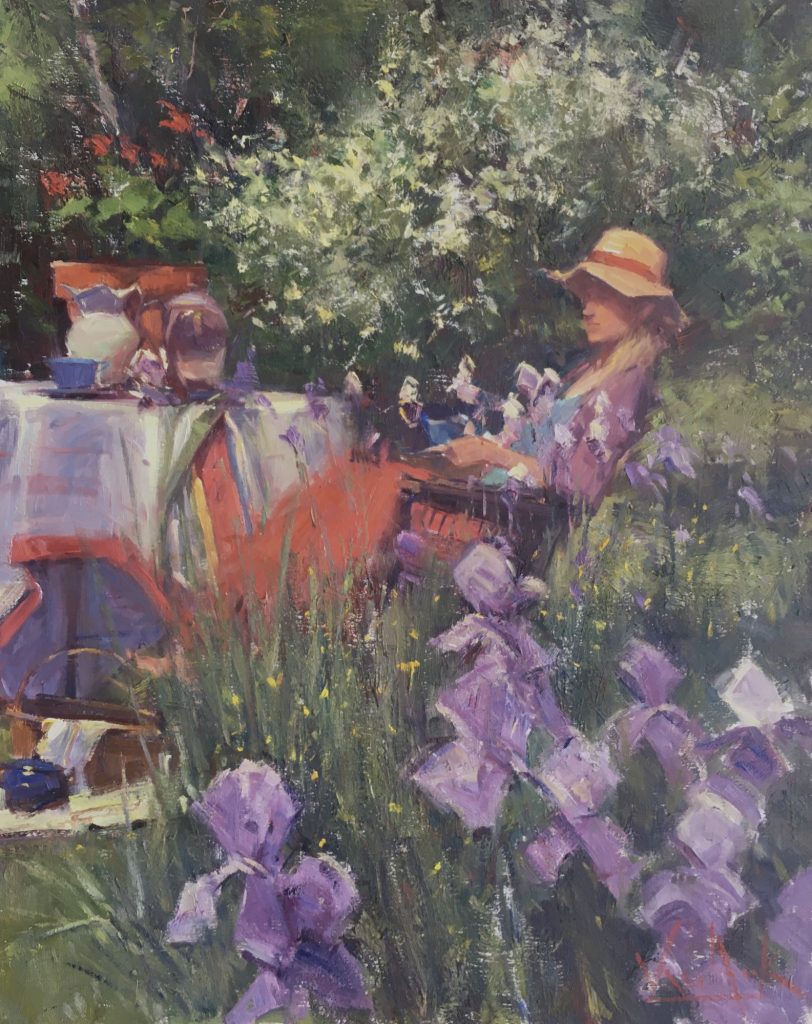 George Van Hook
Cambridge, NY
georgevanhookfineartist.com
George Van Hook, born and raised in Abington, Pennsylvania, began painting at a young age. Van Hook thinks of his paintings as a visual response to the selected environment, whether it is a landscape, figure, or still life. "I want the color to be beautiful and the drawing firm and secure," he says. The paintings are a marriage of external and internal forces – what emerges on the canvas reflects both the beauty of the world and the artist's innermost response. He has achieved national recognition, winning numerous plein air competitions and awards for his oils and watercolors.
Peter Yesis
Searsport, ME
peteryesisart.com
Peter Yesis paints in a soft, realistic style. He says, "My goal is to draw the viewer's attention to the underlying beauty that I see. While I may set the mood and begin to tell a story, the painting should hold the viewer's attention so they discover and feel something of their own." A member of Plein Air Painters of Maine, Yesis has been juried into national plein air shows. He is represented by Roux & Cyr International Fine ArtGallery, Portland, ME; Camden Falls Gallery, Camden, ME; Geary Gallery, Darien, CT; True Grit Gallery, Middleborough, MA; and Visions of Vermont Gallery, Jeffersonville, VT.
---